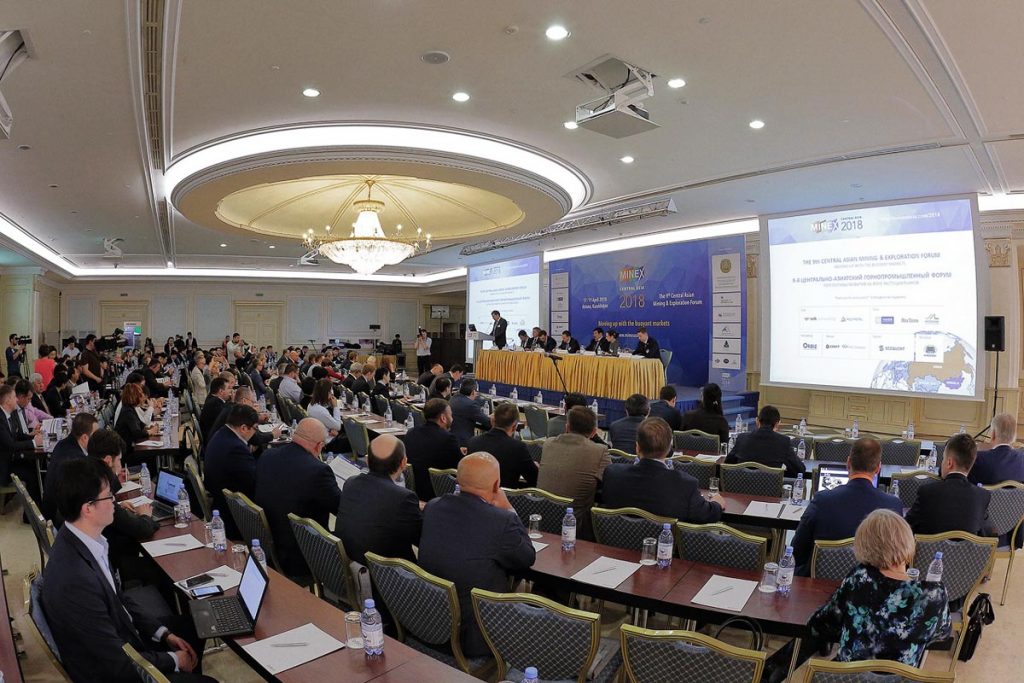 The 9th MINEX Central Asia Mining and Exploration Forum was held in Astana, Republic of Kazakhstan, on 17-19 April 2018.
Organised under the central theme "Central Asia – moving up with the buoyant markets" the Forum offered an industry-wide discussion on strategic rethinking of mining industry development and highlighted emerging investment and technological opportunities across the mineral-rich countries of Central Asia.
Kazakhstan is spearheading the reform in the mining sector and improving the terms for international investors interested in developing greenfield and brownfield projects. In December 2017 Kazakhstan adopted the Code "On Subsoil and Subsoil Use", the Tax Code and a number of legislative acts aimed at creating stable environment for subsoil users and stimulating inward investment in the mining sector. The new financial hub for funnelling funding into economic growth of Kazakhstan and countries of the Central Asian region is being developed by the International Financial Centre in Astana. Uzbekistan and Kyrgyz Republic are also carrying out reforms aimed at attracting investments into geological exploration and modernisation of mining enterprises. Mining industry in Central Asia is actively modernising to improve efficiency and reduce costs. "Industry 4.0" technologies are being implemented by major players. Use of artificial intelligence in managing mines in Kazakhstan has become a reality. Exploration companies are implementing new technologies and methods for accelerated prospecting and evaluation of deposits.
These market changes create favourable conditions for investing in mining projects, transfer of cutting edge technologies and unlocking vast mineral and metals potential of Kazakhstan and the countries of Central Asia.
Forum facts and figures
| | | |
| --- | --- | --- |
| Over 70 speakers | Over 300 delegates | 22 Exhibitors |
| Over 20 hours of presentations | 10 hours of networking | 7 hours of CPD workshops |
| Over 20 countries represented | 50% Kazakh companies | 80% delegates are decision makers |
| 30% overseas companies | 20% companies from Eurasian Economic Union | 10% foreign investors |
| Over 40% – mining companies | 15 % Government officials | 30% – Supply chain companies |
| Coverage in over 40 local and international media | UK Trade program and ArcelorMittal mine visits | MineTech and MineVenture competitions |
MINEX Central Asia Forum brought together over 300 government mine operators, prospectors, geologists, investors, experts, financiers, government officials and service companies from Central Asia, CIS and overseas.
Over 70 speakers and panellists presented at the Forum's Plenary and Technical sessions.
Trade exhibition organised alongside the Forum offered platform to 22 international and domestic companies to demonstrate their products, services and projects to highly sophisticated target audience.
To stimulate exchange between miners and financiers MINEX Central Asia Forum organisers held the Mining Investment Accelerator Competition – MineVenture. The main goal of MineVenture competition is to select promising projects and provide subsoil users, potential investors and independent consultants with a platform for discussing the ways for bringing these projects to the implementation.
The MineTech competition was organised within the framework of the Forum with the aim of presenting the cutting-edge technologies and innovative solutions to aid Kazakhstan's mining industry's aspirations for growth. The competition was sponsored by Kazzinc LLP. This year the competition was organised in two stages – MineTech Business (open to commercial companies) and MineTech University (open to University graduate and post-graduate students).
The round table "Mining industry 4.0 – Education – Research – Business" was held for the first time alongside the Forum with the view of comparing global practices for cooperation between mining Universities, Mining companies and Government Authorities in integrating research and innovation.
Alongside the forum MICROMINE organised with the great success its 2nd Central Asia Users conference.
A survey conducted during the Forum offered delegates an opportunity to express their views of the ongoing changes and their potential impact on further mining industry development in Kazakhstan and across Central Asia.
Over 40 local and international media and independent journalists covered the Forum's proceedings.
UK companies and organisations promoting UK goods and services to Kazakhstan mining took part in the DIT Trade Program organised alongside the Forum in Astana, Temirtau and Karaganda. One-on-one meetings were organised with the ERG, Polymetal, Kazzinc Holdings, Altynalmas, KAZ Minerals, Kazakhmys, Yer-Tai LLP and ArcelorMittal. Mine site visit was organised to ArcelorMittal mine sites in Temirtau and Karaganda.
The Forum was concluded with the round table "The Code on Subsoil use" organised by the Ministry of Investment and Development of the Republic of Kazakhstan. Experts from the Ministry, Geology Committee, Parliament, NGOs and Law Firms presented the ongoing development of the sub-legislative acts supporting the in the "The Code on Subsoil use".
Speakers also presented specific changes of mining regulation of technogenic mineral formations, the national program for managing state funds of mineral resources and talked about the introduction of international reporting standards.
Proceedings
The Forum proceedings will be published on 10 May. Further information is available on https://2018.minexasia.com/order-forum-materials/
Dates of the 10th MINEX Central Asia Forum will be announced in due course.