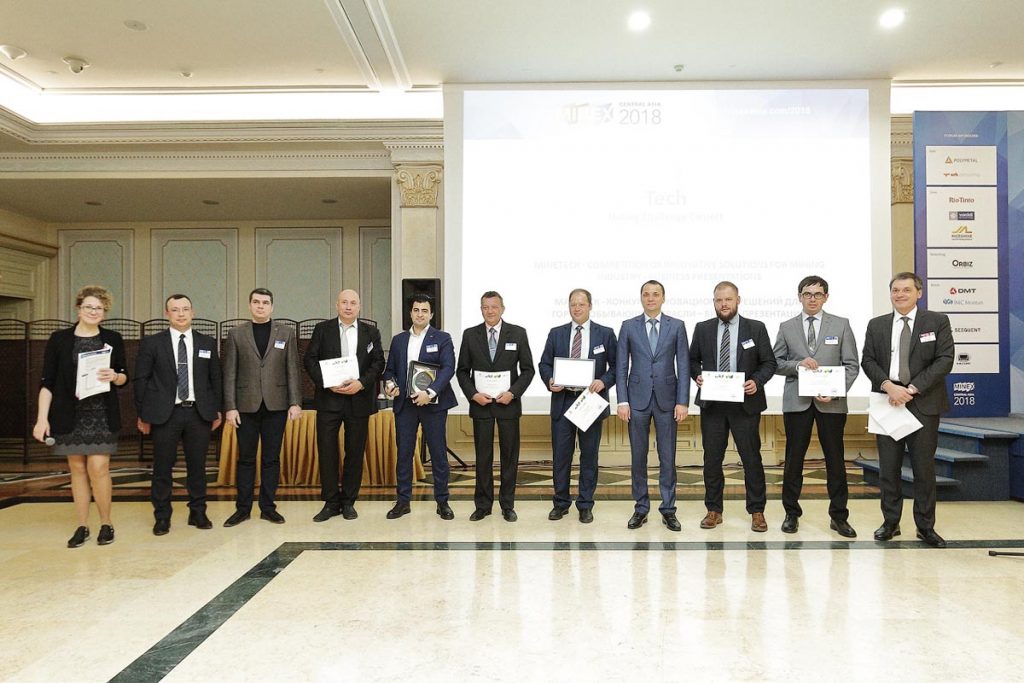 MineTech competition was organised on 18 and 19 April 2018 within the framework of the MINEX Central Asia Forum with the aim of presenting the cutting-edge technologies and innovative solutions to aid Kazakhstan's mining industry aspirations for growth.
The competition was sponsored by Kazzinc LLP. 
This year  the competition was organised in two categories – MineTech Business (open to commercial companies) and MineTech University (open to University graduate and post-graduate students).
The jury was represented by experts from the leading companies in the industry:
Tairzhan Salykov – Head of Production and Technical Department of Polymetal Eurasia LLP
Aydynbek Berikbolsyn – Head of Projects, Technical Directorate, LLP Polymetal Eurasia
Nikolay Golts – Head of Geological Prospecting Service for Central Kazakhstan Kazzinc Exploration
Alexander Efimov – Lead Geologist Kazzinc Exploration
Dmitry Makarov – Leading Geologist Kazzinc Exploration
Julia Cherepanova – Project Engineer WAI
Murat Saiduakasov – Expert of Centerconsulting LLP
8 companies took part in the Business part of the competition. Detailed information about the contestants is available on the forum's website:
https://2018.minexasia.com/sessions/minetech/
https://2018.minexasia.com/sessions/minetech-competition-stage-1-business-presentations-part-2/
The Jury named Fuad Asadov, General Director of ThoroughTec Simulation the competition winner for his presentation of  "Innovative methods of accelerated development of human capital in the mining industry. Integration of cutting-edge high-fidelity simulator-based training systems into mining workforce training and certification programs".
Yury Davydenko, General Director, Helios LLC was awarded the "Audience Choice Award"in recognition of the innovativeness and practical significance of the "Application of electromagnetic sounding and induced polarisation (EMZ-VP) technology in the search for ore deposits".
The winners were awarded on 19 April with the competition prizes established by the Organizing Committee of the Forum and awards from Polymetal Eurasia LLP and Kazzinc Exploration.
---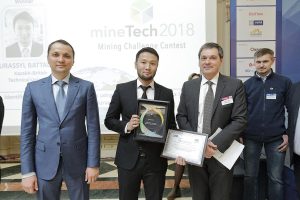 The MineTech University competition was held in two nomination stages: "The best student presentation" and "The best challenge solution".
Teams of Kazakh – British Technical University and Nazarbayev University took part in the competition.
The nomination prize "Best student presentation" the jury awarded to Nurasil Battalgazy, School of Mining and Earth Sciences, Nazarbayev University.
The  prizes in the "The best challenge solution" nomination the jury awarded in the following order:
Nazarbayev University – the best team solution (MINEX Forum award)
Kazakh-British Technical University – the best team challenge solution (Kazzinc award)
Nazarbayev University  – the best team challenge solution (Polymetal Eurasia award)
Awards and prizes were awarded to students at the closing of the forum by representatives of the MINEX Forum Organizing Committee,  Kazzinc and Polymetal Eurasia.
The participants of the contest were congratulated by Mr. Timur Toktabayev, the Vice-Minister for Investments and Development of the Republic of Kazakhstan
Both teams were invited to visit Polymetal Eurasia LLP and Kazzinc Exploration mining enterprises.